The Youth Leadership Program is offered to 11th grade juniors. We have 15 area high schools in or near our service area. Counselors at each of the 15 high schools are contacted each year in the fall and asked to send the best representative from their school who lives on Magnolia Electric Power power lines. 11th grade home-educated students are also encouraged to apply for the program.
The nominees come to Magnolia Electric Power on a set date to participate in Cooperative University. The nominee will then compete in a 10-minute interview session with a panel of out-of-town judges on the next day. The judges will select the top two applicants for the award.
YOUTH LEADERSHIP WORKSHOP
Generally taken in February/March, students selected to participate in the Electric Cooperatives of Mississippi Youth Program will attend a three-day workshop in Jackson. The program focuses on developing leadership skills of high school students who have demonstrated a desire to be quality leaders among today's young people. Participants possess talents that make them natural leaders. It is the focus of this program to enhance these talents and provide advanced skills to help them as they prepare to be tomorrow's leaders. The students will also be given the opportunity to tour the State Capitol and meet with their state legislators.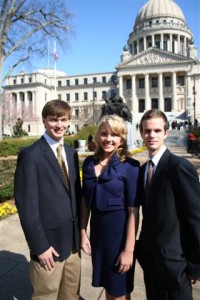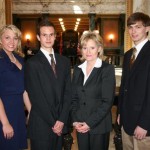 WASHINGTON, D.C. YOUTH TOUR
Taken generally in June, students selected to represent Magnolia Electric Power will travel with the Mississippi delegation to Washington, D.C., and join more than 1,800 high school juniors from across the nation for the Rural Electric Youth Tour. During the week they learn about cooperatives, rural electrification, the city and our national government. Want to learn more about Youth Tour?
Click here to find out more about the Washington trip.